Going Above and Beyond To Find Your Next Home
Tom Davis Broker
With eXp Realty, serving Snohomish County and beyond.
Start your Property Search Today:
What's My Home Worth?
The First step when selling your home is to set the right price for the current market conditions in your area.
Thank You for visiting Tom Davis
REALTOR® with eXp Realty
Hello, everyone! Welcome to my real estate website. When it comes to helping anyone get clear about the opportunities available throughout my service area north of the Seattle Metro Area, I'm a pro. My knowledge, expertise, and experience are complete. As a broker, my property valuations are authoritative. I regularly publish my broker's price opinion, or BPO, to the MLS for use by other agents in the field, some of which are operating under my license. This means I can show you the most accurate sale price for your property or a property you may be interested in.
When it comes to helping my clients achieve their goals in this market, I take everyone's success seriously.  I attribute this to my love of helping others, my technical background, and my previous experience in retail and technical support. If there's one thing I can do, it's to actively listen to people when they speak, so I can understand what they mean. Once I'm clear on your situation, your concerns, goals, ideals, and forces acting on you, I have no trouble answering questions and explaining every detail clearly. It's educational.
Aside from the clarity and help planning your success that I provide on the free consultation, it also helps to know that when you're working with me, it's a partnership. It's you, me, and everyone I count on to help me provide the most streamlined approach to everyone's success. The team of specialists I've amassed over the years has helped me so well that I use them for every deal. Whether you're a buyer, seller, or investor, it's always helpful to have a trusted network of industry experts on my speed dial. This includes property inspectors, contractors, and landscapers, as well as mortgage brokers and title companies.
FEATURED LOCATIONS
Call Tom Davis at (425) 501-7290 if you wish to BUY or SELL a property in the Snohomish County area!
IF YOU ARE PLANNING TO BUY OR SELL
More Reasons to Choose Tom Davis and eXp Realty as Your Real Estate Professionals!
If you're looking for the perfect home to buy that matches your wants, needs, and budget, I can help.
With me, buying a house that aligns with your essential criteria and fits your lifestyle is much easier than you'd expect. I'll help you remove the complications and confusion by educating you on the market and providing the relevant details about each home so that you're making smart choices.
Once I learn about what you're looking for, I can offer a customized search to make the process as unique as you are!
You can find homes based on price, location, size, school data, and much more. I'll keep you in the loop, saving the refined searches of your favorite homes online so that you can refer to them and receive notifications about the availability and future listings.
When you're ready to start your home search and request visits, you can count on me to be your expert guide. And I'll be with you every step of the way, from spotting potential homes to helping you make an offer.
If You are Planning to Sell, Make Sure You Have the Right Real Estate Agent!
When the time comes to sell your home, you don't have to go it alone. Let me lend a hand, offering the tools, information, and expertise you expect from your local real estate professional.
Before you list your home, you'll want to get an estimate to determine how much your home is worth. I can run a comparative market analysis that compares your homes to others like yours in your area to determine its fair market value and asking price.
A variety of market conditions can impact your home's value, like interest rates, foreclosures, and the sale prices of comparable homes.
I've got intimate knowledge of neighborhoods throughout the area, and I bring you the skills and expertise necessary to provide a detailed assessment of your property. I'll set the right price, design your listing, and put together a comprehensive marketing plan to reach a broad audience of potential qualified buyers.
I'll guide you through every step of the listing process until it's time to bring buyers around for walkthroughs and negotiate on their offers.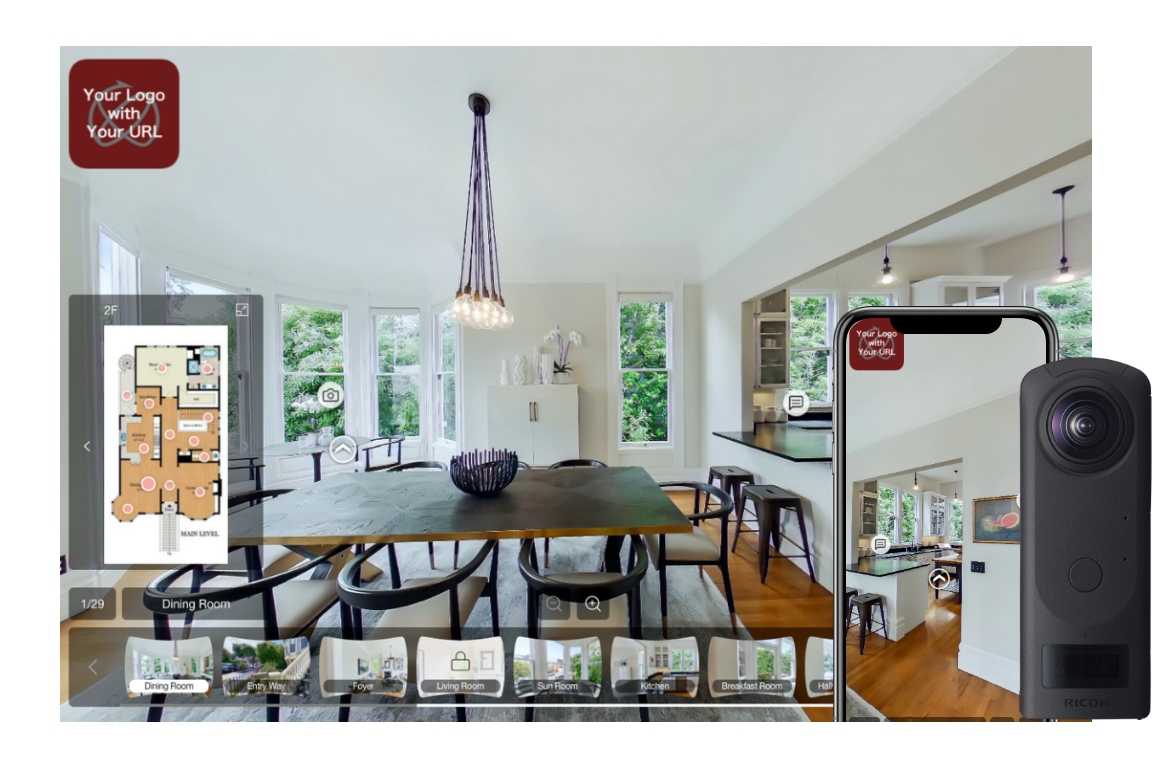 Free 360° Ricoh Tour with Every Listing!
Draw buyers in by showcasing your homes' best attributes both inside and out!
Virtual tours can help you create better experiences, happier customers, and more revenue.
Real Estate Agents call for pricing on 360 Ricoh Tour for your listings!